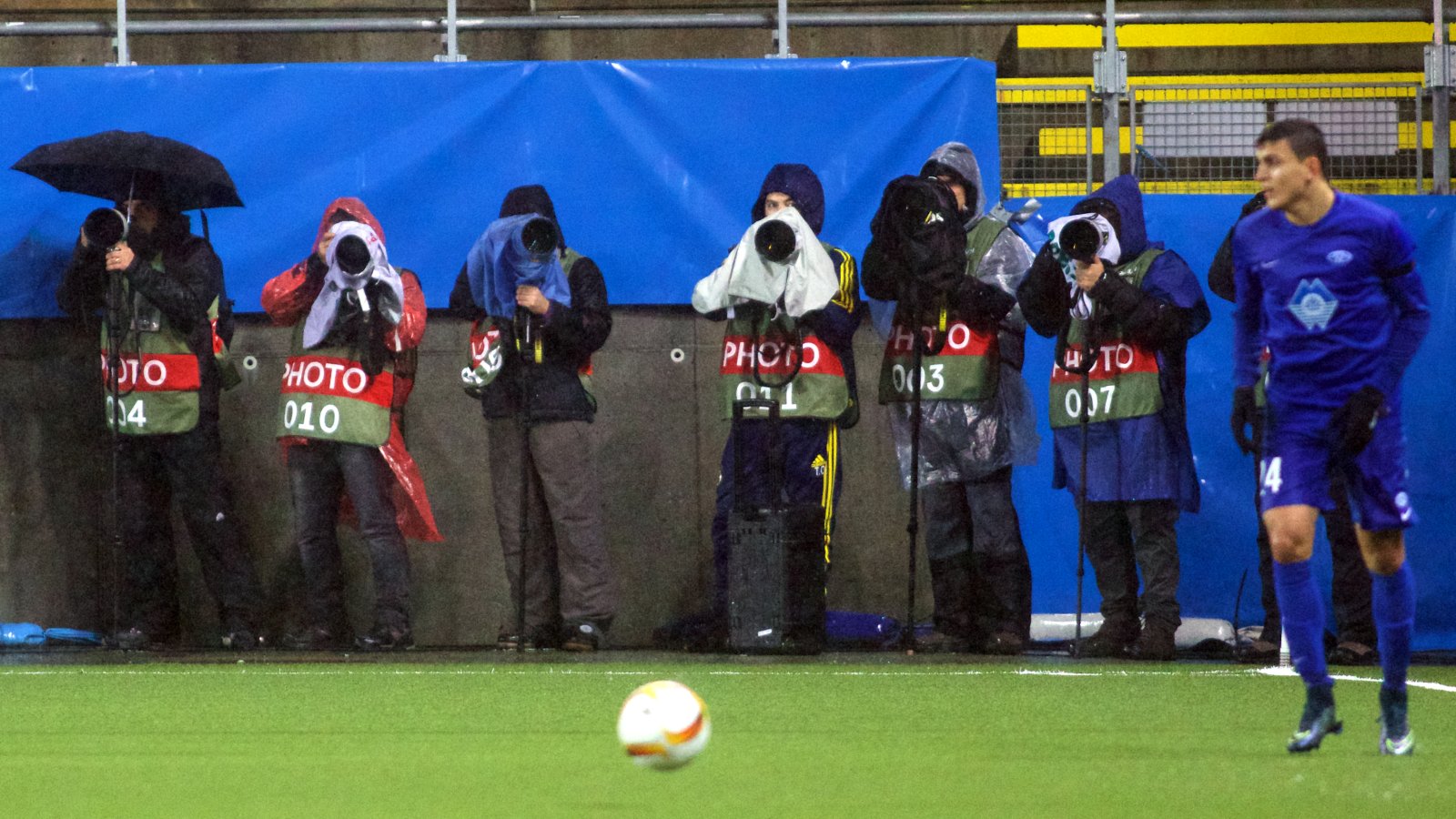 During many years in Norwegian Top football Molde FK has enjoyed the co-operation with the press and media. At Aker Stadium we can offer modern facilities and good conditions for your work, and we hope you will enjoy your visit.
ARRIVAL
Map to find the stadium, click here.
Car parking on reserved area on the west side, ask the stadium service crew.
Entrance for working press and media officers on the south seaside, basement/ground floor.
Registration and information in the Press Centre on the ground floor.
DURING THE MATCH
Photographers use their own entrance to the field and do their work behind the advertising boards.
No admittance to the players tunnel, and no interviews without special appointment after the players have entered the dressing room.
You are requested to contribute to good working conditions by respecting your colleagues.
AFTER MATCH
The teams are admitted 5-7 minutes in the changing room before any interview.
The teams dressing room will not available for media, requested players will be picked up.
INTERNATIONAL UEFA MATCHES
In official matches rules from UEFA are to be followed.
Special guidelines for pre and post match press conferences; interviews and admittance areas will be informed about when you arrive the press centre before the match.
FACILITIES FOR THE PRESS:
Open 2 hours prior to and after match.
Press Center
On the south side, basement/ground floor, Reception room for registration and information and pre and post match press conferences. Available 2 hours before match.
Mixed Zone
In the same area as the Press Center or outside the Press Centre
Playfield surroundings
For photographers, camera and sound crew, admittance through special entrance.
Press stand 3rd floor
Outdoors, ab. 35 seats with tables, electric outlet under the tables.
The press lobby and commentator boxes 4th floor
Workroom for for the media open 2 hours prior to and after the match.
For radio and TV crew, entrance to camera platform, commentator boxes, TV studio, editing room and make-up room / office.
Camera platform north
On the opposing side of the main stand. For double productions.

Some good advice
To ensure the best working conditions, please notice:
Sign up for your arrival on beforehand by using our accreditation form .
Tell us if you have special requirements like car parking reservation, wish for seats on special areas.
Ask for help when you need it.
Make use of our service crew.
Useful information:
Molde Fotballklubb / Molde Fotball AS
Telephone : +47 71 20 25 00
Telefax: +47 71 20 25 01
Visiting address: Julsundveien 14, Aker Stadion, entrance 10, Molde
Postal address: Julsundveien 14, 6412 Molde, Norge
Internet/web: www.moldefk.no
E-mail: [email protected]
Media Officer & Venue Director
Per Lianes, telephone (+47) 47 92 37 40 or [email protected]